Hello & Welcome
Please forgive us but we're under construction; this page and 'us', as we develop Celtic Farms. We expect to open in November 2015, in time for the holidays. Meanwhile, Kathy (that's me) is moving into the food photography and blogging world, while still the director of a counseling agency treating child abuse (NCAT), and getting ready to go full time with Celtic Farms next year when I retire. I'll be attending the International Food Bloggers Conference in Seattle this year and very excited to learn all I can.  Until November please like us at https://www.facebook.com/pages/Celtic-Farms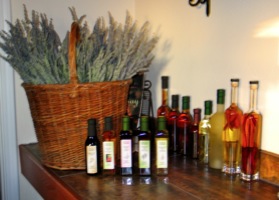 Celtic Farms is a tiny wholesale and retail company, located in Nevada City California, making and selling specialty foods and growing heirloom vegetable seedlings and nursery plants.  We also offer a small selection of kitchen and garden items, and books.
FROM THE KITCHEN
* Flavored vinegar
* Organic slow dried tomatoes
* Culinary herbs & spices
* Celtic Sea Salt
Organic figs, rosemary, roasted garlic, and others products are aged in quality vinegar. These are special vinegars for dressings, marinades, dips and other culinary delights. The tomatoes are grown chemical free in our Nevada County garden andslow dried to retain essential vitamins and enhance flavor.
FROM THE GARDEN
*
Vegetable seedling starts for spring & summer gardens
Local folks can order heirloom, rare and interesting vegetables for spring and summer planting. The varieties of tomatoes, peppers, cucumbers, squash, melons are different and interesting and will be great additions to your garden. We have some standards, too. Pick up in Grass Valley area only.
FROM THE STORE
* A small, yet special collection of kitchen and garden items, including cookbooks, a Shamrock tea cozy, and a variety of items that have nothing to do with the kitchen or garden, like jewelry, small antiques, and more. If you sign up for email (we never share your information – ever!) you will receive updates on new items and sales.
On Sale Now: The Irish cookbooks we have right now are some of the best cookbooks we've ever seen. Beautiful pictures, interesting and funny stories, only as the Irish can tell them. Irish cooking today rivals any region known for its fabulous food.
They have more  than potatoes!